After watching
The Color Purple
last night I had an embarrassing dream about Eleanor Catton - the brilliant, beautiful, young Kiwi woman who recently won the Booker Prize for her book
The Luminaries
...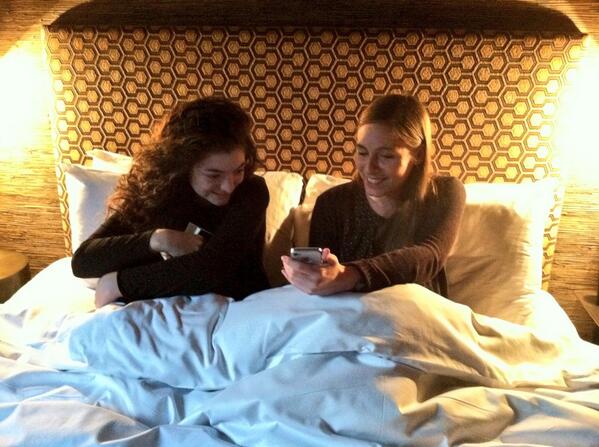 http://www.nzherald.co.nz/entertainment/news/article.cfm?c_id=1501119&objectid=11153066
Now, don't get the wrong idea from this photo, my embarrassing dream was not a bedroom dream, as such, though it did take place in a bed. Nor, indeed, is this me with that brilliant, beautiful young Kiwi on the right there (for I am a bottle blonde, but otherwise understand the confusion), who may or may not be smiling at her phone on account of a funny message I sent her about my dream. That all depends on how real dreams are; I'll let you be the judge...
I don't normally discuss my dreams on my blog or anywhere else where millions are likely to be listening in. Call me old-fashioned, but I like to keep the deepest secrets of my deranged mind - where possible - to myself. But in this case, I'm prepared to make an exception...
In my post-
Purple
dream, Eleanor and I (what a ring that has to it!) were working for the same powerful woman, who shall remain faceless, and knew each other let's just say... well (me and Eleanor, that is, not the faceless woman). I wasn't sure in the dream exactly in what capacity Eleanor was working for the woman (she was possibly her personal author), but I was, obviously, looking after her young child, because that's what I DO these days, even in my dreams (sigh). Nonetheless, it occurred to me that the faceless woman was taking Eleanor for granted and not fully appreciating her greatness. So without asking Eleanor, I took it upon myself to tell that woman, in front of Eleanor, about Eleanor's recent achievement. And this is where
The Color Purple
comes in. Because instead of announcing that Eleanor had won the mighty Booker Prize for fiction, I stumbled in my dream confusion and all-round awe of the woman and said instead that she'd won the slightly mightier Pulitzer (as Alice Walker, author of
The Color Purple,
did), to which Eleanor rightly reeled back in mortification having to quickly amend the accolade in a downward direction: 'No. It wasn't the Pulitzer I won it was the Booker'. If only I might ever utter that sentence. In the process, our relationship was quite ruined and I woke up (to find myself in bed with a mere man).
Apology:
I can't recommend
The Color Purple
enough for a film and story that totally stands the test of time, and apologise genuinely to those who might think my lame, white-red dream a sad appropriation of that classic story. And to my mere man not, who says that we watched the film back in 1986 before we got together. I don't remember that, exactly, but the fields of purple flowers have stayed with me happily all these years, along with the man.